Back to Recipes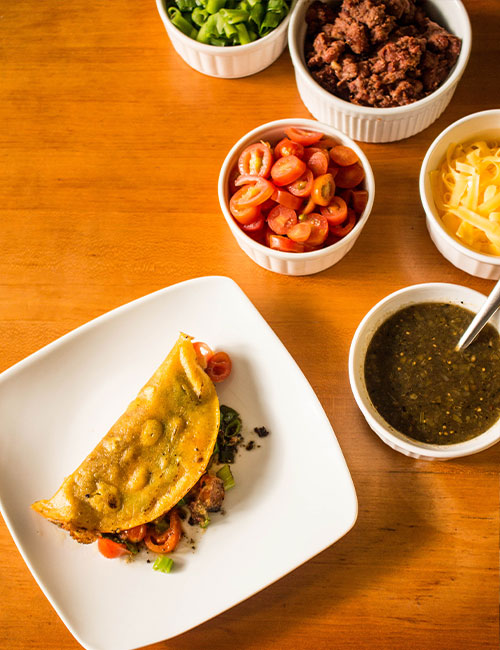 Two-Minute Taco
Ingredients:
1 Tub of Rethought Red Beans
1 package of 5" corn tortillas
1 cup grated cheddar cheese (optional)
1 bunch of green onions, chopped 2-3 ripe seasonal tomato, chopped
1 teaspoon of olive oil per corn tortilla
mild green tomatillo sauce
your favorite hot sauce
Instructions:
Heat 1 teaspoon of olive oil over medium heat in a frying pan. Empty the tub of Better Beans into the hot oil. Refry beans until golden brown.
While the beans are refrying (don't turn them too much!), prepare the veggie ingredients and grate the cheese.
Remove the beans from the heat. Add new oil to the pan, and heat on medium heat.
Coat each side of the corn tortilla with oil. Fry one side until bubbling, then flip to fry the other side. While the second side is frying, place a line of Better Beans. Sprinkle on grated cheese, green onions, tomatoes, tomatillo and hot sauces.
Fold tortilla, and continue to fry on each side until the tortilla is crispy and the cheese is melted. Serve hot!
Serving Size:
Serves 4
No comments yet.